Last night I was able to drop in at the Oktoberfest closing party at Metrowalk in Ortigas, though I couldn't stay long because I took ill about three hours in. [Hopefully it was just something I ate...] I left at around 8pm, but before that I managed to take a few pictures of new friends and good ones.

The Granado Espada freeplay at the Gamefrog PC/Internet shop was temporarily sidelined by the maintenance needed to patch in the

Tiburon's Scarecrows

quest event, so we took the first few pics:



"I raided the New World at the Granado Espada Raid Party 2007!", featuring a female Scout, Grace Bernelli, and pirate Adelina Esperanza.



"I turned the New World upside-down at the Granado Espada Raid Party 2007!", featuring a male scout, Diego/Yeganeh, and Grace Bernelli.

[Gee, they sure love Grace at IAH XD She's been on a lot of the posters!]


Two new GE posters, both with the theme of "Granado Espada Raid Party 2007". Wish I had them both, though I prefer the first one.

Then here's a group pic of some of the early bird GE players who showed up:

From left to right: NineMoons [me], Fiksdotter, pCM Veya, Welling, DeSanggria, and Conteza [Norwin].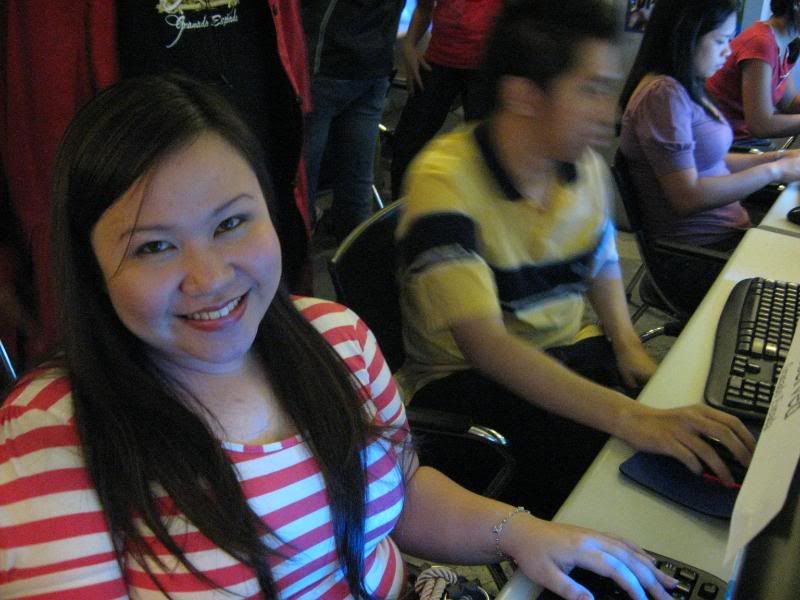 These three photos show Lobishomen [the girl] and MirageEros [the guy] from Carebears faction in Vivaldi server. She's the faction leader, while he's one of her deputies.

A good amount of fun was had by all, and, I hope, a lot of beer. [Apparently the promo had been buy beer, get 1 hour of GE freeplay.

...Cool.]

For other photos from last night, please click on the link for my Photobucket album.

***

Will also be posting about the bloggers meet afterwards, so please watch out for that too, hopefully later tonight.

***

Quick quest note: a list of Tiburon's Scarecrows locations and coordinates can be found at Ihave0life. The final 6 locations are still marked as unconfirmed, but I think they're valid, because last night people were confirming them in Cervantes server via /broad.